My brother Derik is a songwriter's DREAM MENTOR. 
A couple weeks ago, Derik, Dalten, and I taught a Creative Music Incubator in Ukraine. This trip was organized through the U.S. State Department program Arts Envoy. Many of you have messaged us asking "what is Ukraine like?!" and "what did you do there?!" and "who did you work with?" so I want to share (from my perspective) what the process was like teaching this Incubator at America House in Kyiv, Ukraine— especially with Derik as our songwriting guru, who guided each of these students to success!
Through Derik's signature "DN Songwriting Method," we taught 15 Ukrainian students how to write a pop song from scratch in just 3 days, and on the 4th day, they EACH performed their polished song in front of a packed audience for the public and U.S. Embassy officials alike! This program/incubator was arranged through the U.S. Embassy at an amazing facility called America House.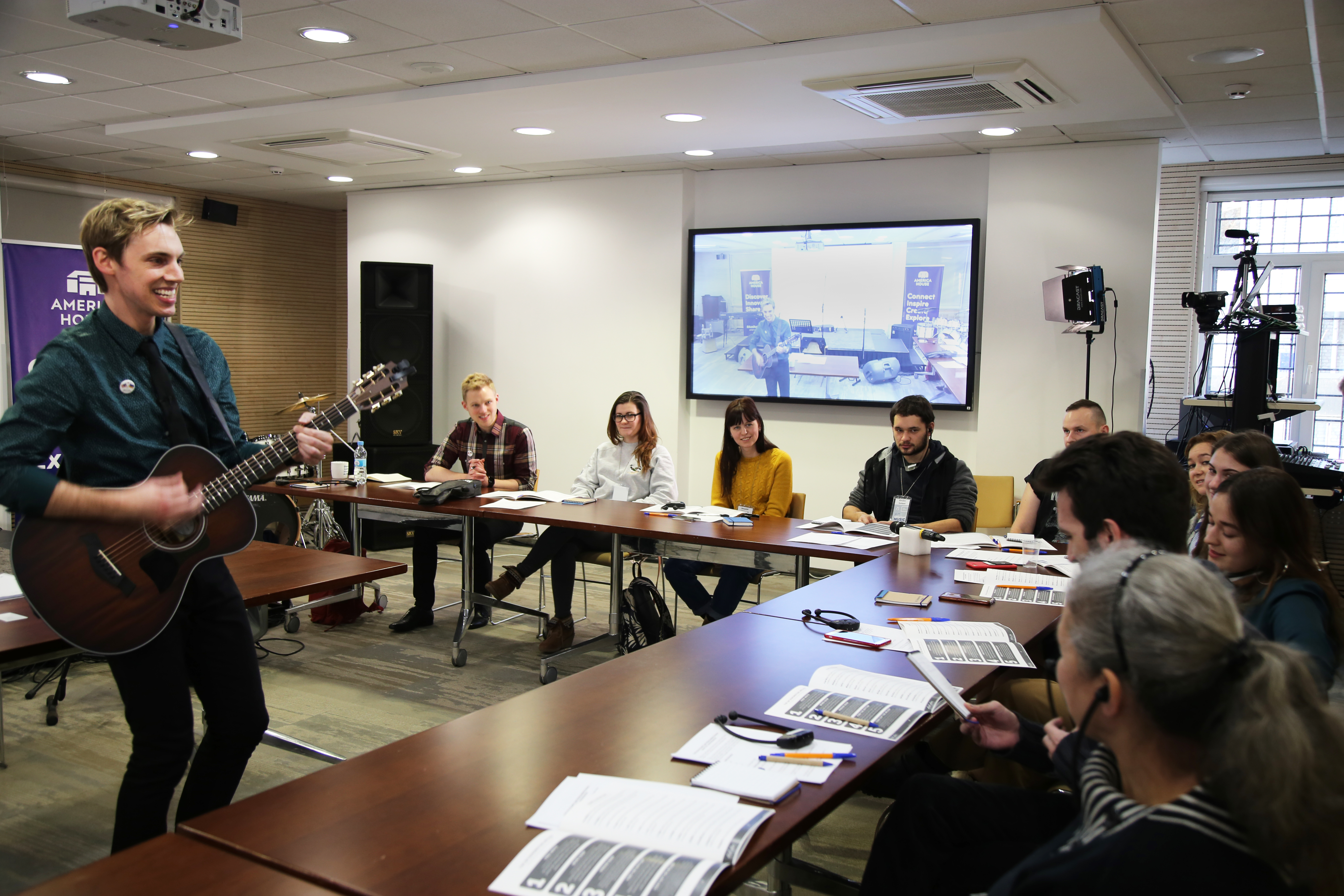 Derik's process was an amazing transformation to witness. One of our U.S. Embassy colleagues' jaw LITERALLY DROPPED when we told her at the end of Day 3: "yes, everyone has their song written, rehearsed, and they're ready for the final performance!"
As a creative artist and a writer, I know what it's like to be unsure, to be nervous to share your creative thoughts, and to judge yourself prematurely. Getting stuck is very common. Derik's biggest goal going into the program was to break each student out of their shell and unlock their potential in songwriting, teach them about his own process, and build a LOT of momentum for each unique student so they could bust through their own personal limits on what was possible— all in just a couple days.
Before we left for our trip, Derik wrote, designed, and professionally printed workbooks for each of our (then unknown) students to guide them through his curriculum, as an accompaniment to his lectures and processes. He showed the workbooks to Dalten and I the night before we left for Ukraine, and I was so impressed with how the books turned out. Derik's curriculum, layout, and detailed process sparkled brilliantly throughout the book design. We excitedly chatted and pondered about who the students would be, what they would be like, what Ukraine would feel like, etc. (I of course, was also getting really stoked about what kind of Ukrainian coffee, traditional culinary dishes, and SNACKS there would be, as well. I digress!!)
Suddenly, staring at these tangible blank workbooks, Derik panicked. Questions arose. What if our students speak ZERO English? What if we only make it through page 5 of the book, and can't get to the end? What if they don't like the exercises? What if they don't come back after Day 1?!...
I reminded him that we would be in this together, and that we've very successfully taught this curriculum together multiple times in the past— just never abroad, and never in Ukrainian or Russian! We did also remind each other of our "take chances" pillar of our successful projects together. We stand by the belief that nothing significant happens without taking risks and quieting the voice of fear. SO, ON THE PLANE WE WENT— freshly printed blank workbooks in hand!
(P.S.  Derik created a FREE PDF DOWNLOAD of several pages of his awesome songwriting workbook if you're interested in songwriting & lyric development. The full & complete curriculum will be available later this year!)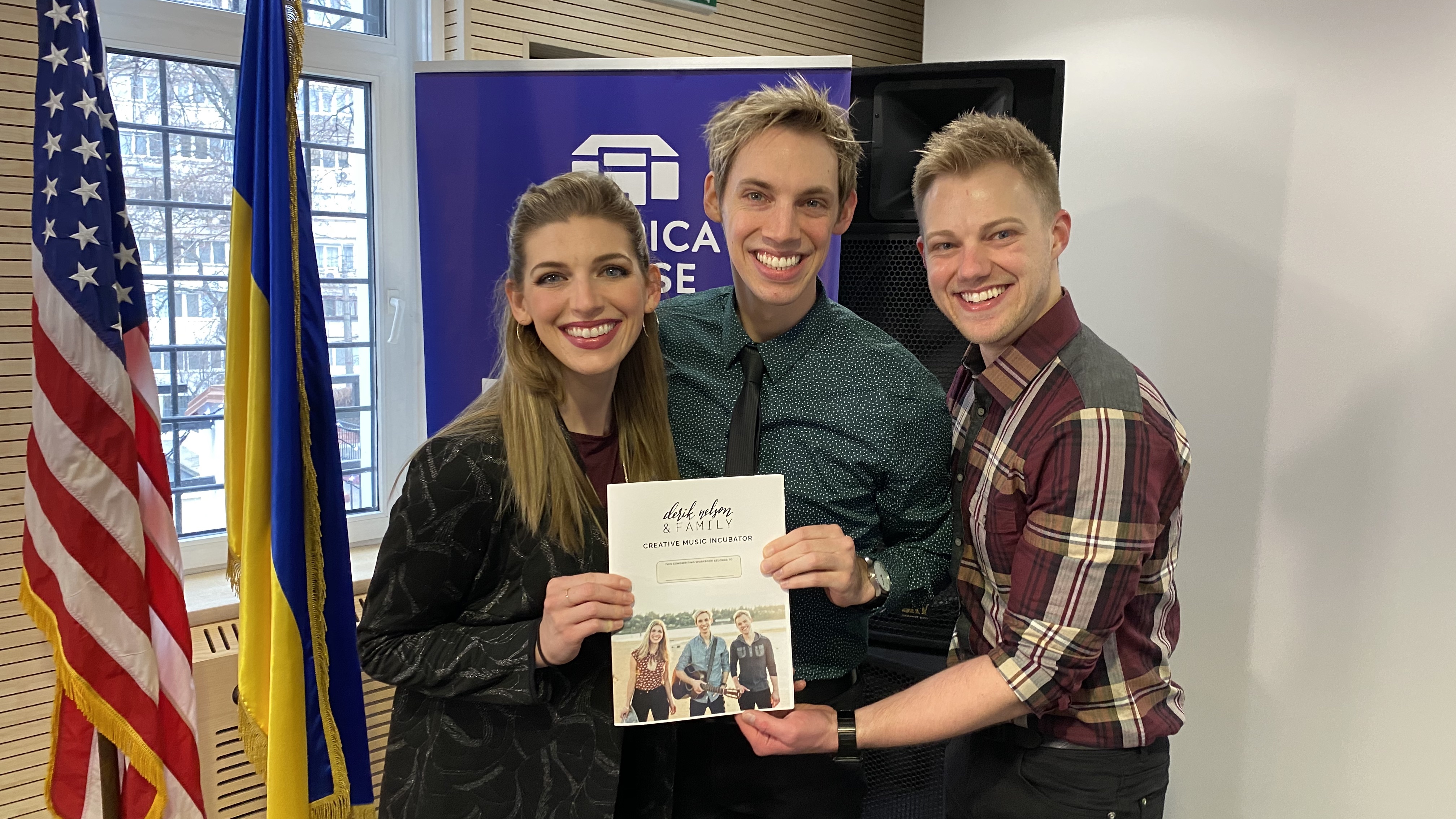 Arriving in Kyiv, on Day One of our Creative Music Incubator, we saw within the first TEN MINUTES how excited our students were to be there. They were extremely motivated and eager for this program they had applied for, despite not knowing each other before arrival on the first day, and they met all three of us with hugs, warm hellos, and curiosity. Many of them were beginning songwriters, some had been writing and performing for years. A few had NEVER written a song before.
I lead an icebreaker off-the-bat, in which we identified we've ALL been very nervous to perform our songs for others or struggled with insecurities around voicing our deepest thoughts.
That moment of admittance and giggling created an environment my brothers & I coined a "JFZ: Judgment-Free Zone." The JFZ is a promise to leave judgment for our work and others at the door. ALL judgmental thoughts, creation fears, and cultural barriers dissolved in that opening icebreaker moment, and we all agreed to support each other in this short but intense journey to write lyrics and music from the heart. Derik took the helm as our trusted CAPTAIN, and Dalten and I the crew to support all our students throughout.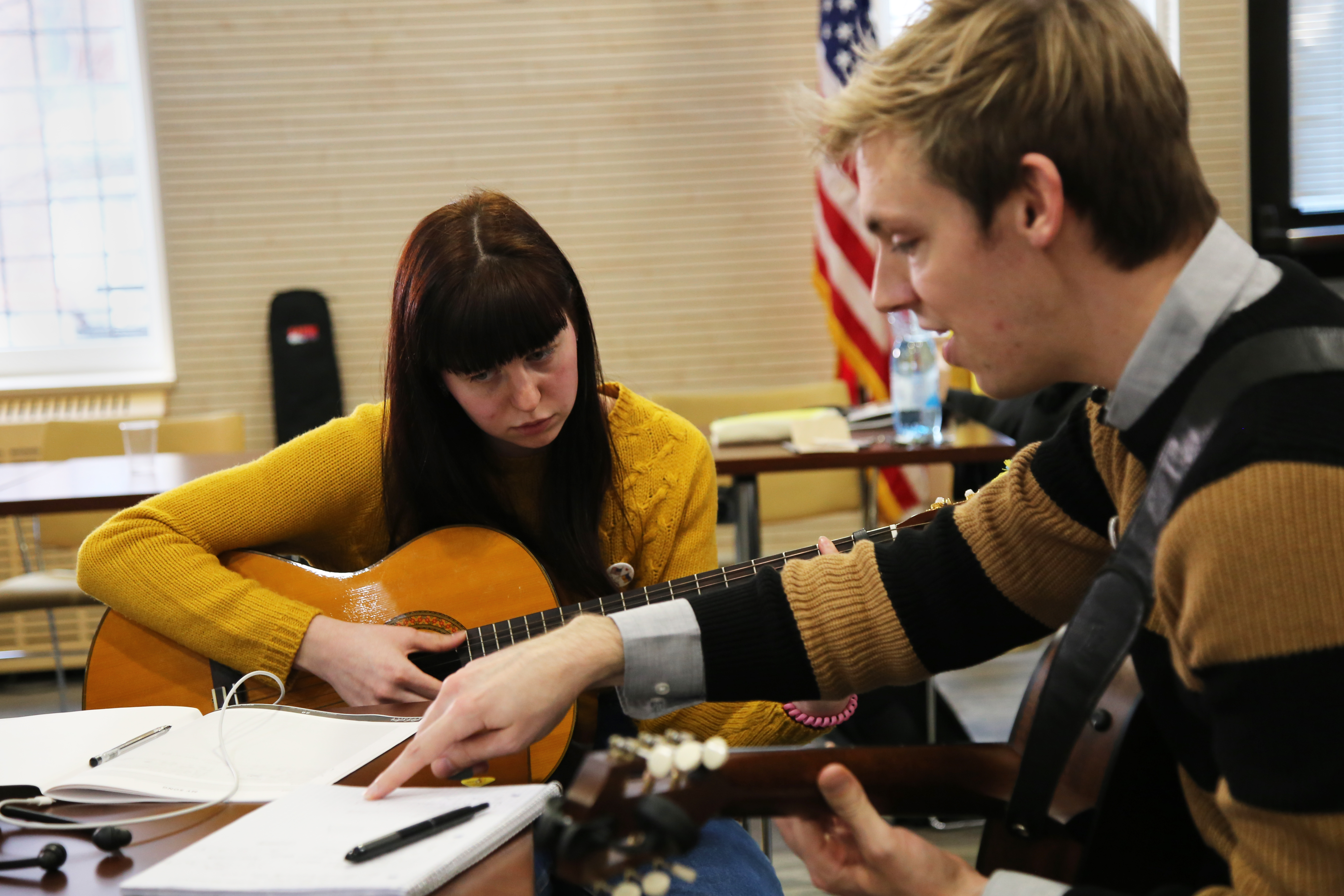 Derik gave them an unbelievable challenge to write, create, and perform their own song from scratch—lyrics and music— in less than  4 days. They all agreed they would do it... not without a little hesitation, however. Several students barely spoke English, so our saving grace was our synchronous translators, Katya and Uri. (If you're interested, we could do a whole post about working with synchronous translation... it's like LITERAL real life magic!)
Equally impressive to us was that EVERY student decided to write their song in English. Not Ukrainian. Not Russian. ENGLISH! It blew my mind.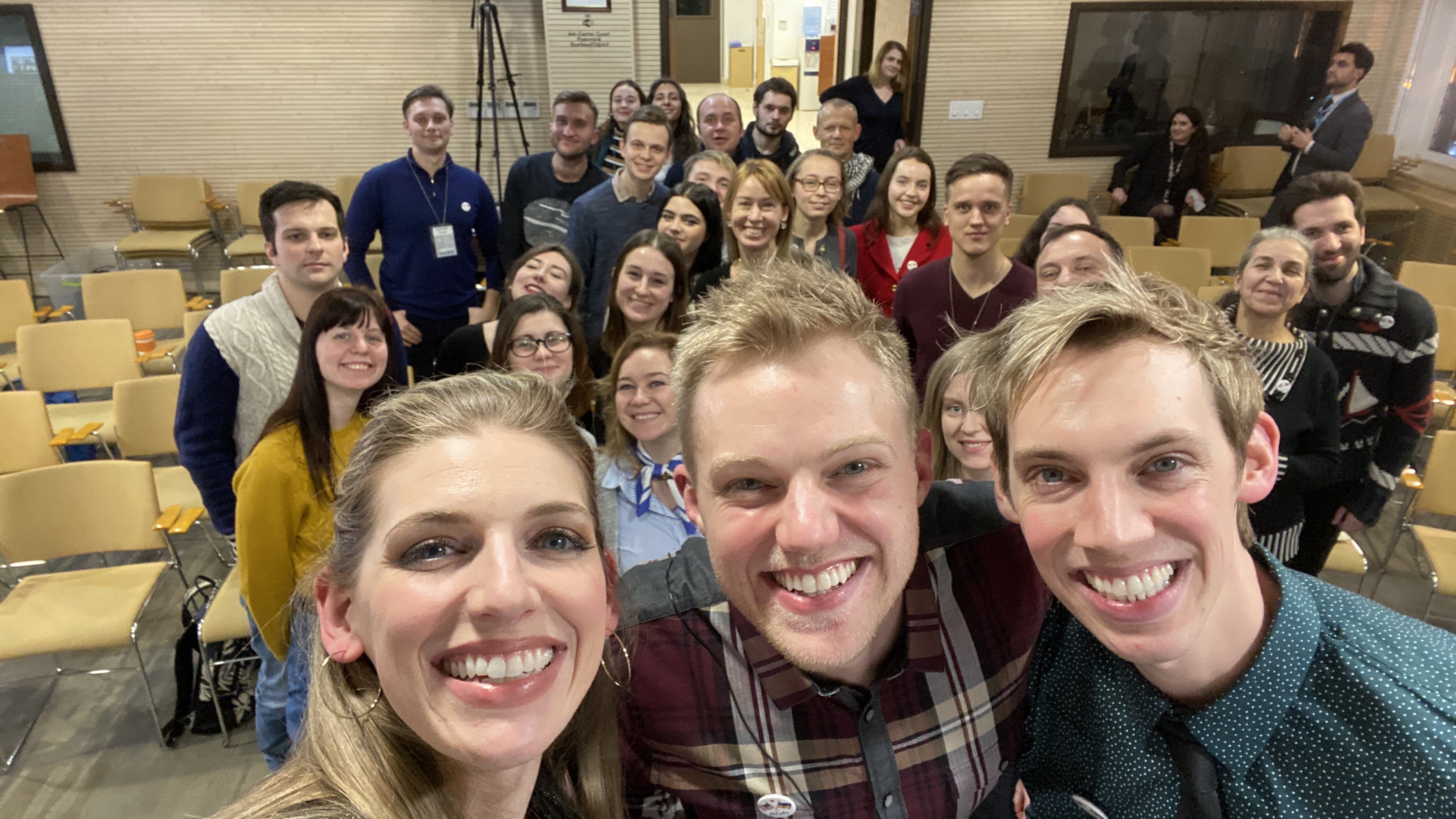 FINAL RESULTS: Every single student wrote their own song from scratch, and performed it for 150+ people in a packed room, filmed and livestreamed worldwide. You can watch the entire concert on YouTube here:
https://www.youtube.com/watch?v=ASH3wFMQFjw
(Derik as bandleader, Riana as the evening's MC, and Dalten as our stagehand wizard. The real shining stars: our amazing Ukrainian students/friends!!)
I'm beyond proud of this amazing team of songwriters, and I'm especially proud of Derik for leading the way.
love, Riana
P.S. Derik's COMPLETE Songwriting Curriculum he used in Ukraine will be available later this year... if that interests you, please download Derik's Songwriter's Starter Kit— a FREE guide to his unique songwriting method & printables!! By downloading, you'll also digitally "raise your hand and say YES" to future updates from Derik about songwriting mentorship, courses, and workshops so DON'T MISS OUT :) 
---
What our students are saying about Derik's songwriting classes + instruction:
"I want to thank you again for your songwriting incubator— it was an unforgettable experience. You are wonderful, your approach to business was amazing. You paid attention to everyone, helped with music and lyrics, and just chatted with each of us and found out our personal life and our plans! I am especially grateful to you for bringing your program to Ukraine!"
—Dee (Kyiv, Ukraine)
"Derik is so shining! We, Ukrainian songwriters, loved them and they loved us right from the start. They showed us numerous techniques how to write songs. They challenged everyone to write a song in 3 days, but more to that, they challenged us not to judge ourselves for what we wrote. Unfortunately, emails can't show the real excitement and inspiration the songwriters felt after the Nelson's visit. Ukrainians need people like Derik Nelson & Family. It's so much more than music (though the educational part was very valuable), and it's more than representing the culture of the USA. Derik Nelson & Family spreads light, peace, acceptance, humanity which often lacks in the modern world. I like to call them ambassadors of love! Thank you for everything always and forever!"
—Sasha (Kyiv, Ukraine)

"Derik's incredible vocal talent, songwriting, and genuine discipline sets him ahead of other artists." 
—Matthew Morrison (Emmy, Tony, and Golden Globe-nominated "Glee" star)

"Having Derik as my teacher was amazing. The Nelson family is so experienced and in tune with each other. They're able to explain things in a way I'm able to understand. Derik guided me in songwriting, AND building my confidence. This week I learned to accept my art and creations, even if they're not what I wanted them to be. This has been such an invaluable experience!"
—Maddy, age 17

"Hi Derik, I want to thank you for coming to USC to talk to us— I really appreciate your insights and I feel like we've gained a lot from your hard-earned wisdom. You're a great example of a hard-working and clear-headed artist."
—Ben M., Los Angeles, CA